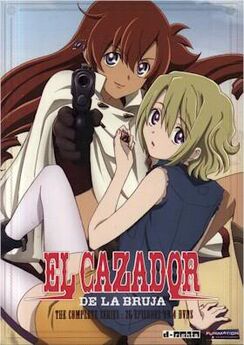 Welcome to the El Cazador de la Bruja wiki! This wiki is a collaborative website about El Cazador that anyone can edit!
[
]
El Cazador de la Bruja
[
]
This wiki is all about the amazing anime/manga called El Cazador de la Bruja (The Witch Hunter). This wiki is a collection of information about this anime/manga. Anyone can contribute information, but make sure that the information you submit is and has been confirmed or is true.
The central characters of this series is Ellis, a mysterious girl with amazing powers, as well as amnesia, and Nadie, a bounty hunter with a dark past who acts as her guardian. The problem - Ellis is wanted for murder, but doesn't remember the crime. Nadie was hired by Jody Hayward to protect the girl as the two of them head southward in the country of Mexico, trying to find the details of Ellis' past, all the time fighting off other bounty hunters after the girl.
At the same time, however, Ellis and Nadie is being shadowed by L.A., who is sending details about Ellis to Douglas Rosenberg, who in turn is using Ricardo and his ward Lirio to watch the girls as well. But Rosenberg's reasons for Ellis are as about as enigmatic as the girl herself. What is it that he wants from Ellis?
Latest activity
[
]